There was a Packer game today and my husband and I decided to make a mini Packer-Party for ourselves. Well, the food turned out great, it just took longer to make than expected.





I made a taco dip and my husband made hot wings!





Cajun Crab Taco Dip


Take a large platter and arrange the following in order.


Cajun Crab dip

- Found it pre-made at Pick N Save

Taco sauce
Shredded cheese
Shredded lettuce
Chopped tomatoes
Black olives
Pickled jalapeños
Scallions
Cilantro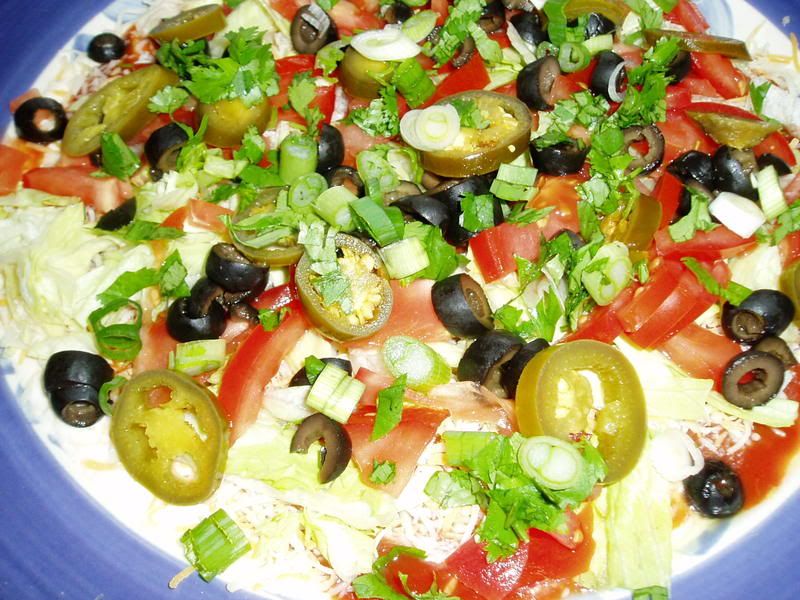 Paula Deen's hot wings
This recipe is very good and very simple. They only hard part was we have never deep fried before - so I had my husband experiment with that. We decided to collaborate with Alton Brown for some deep frying techniques because this recipe is lacking in those directions.

You can obviously use a FryDaddy, but we just used a deep pan, some tongs, and a splash guard.

1/2 cup unsalted butter
1 cup hot red pepper sauce - We used Frank's Red Hot and Smack my ass and call me Santa
12 disjointed chicken wings

Deep fry hot wings (Good Eats Episode - Fry Hard)
Mix butter and sauce in pan and heat through
Toss sauce and wings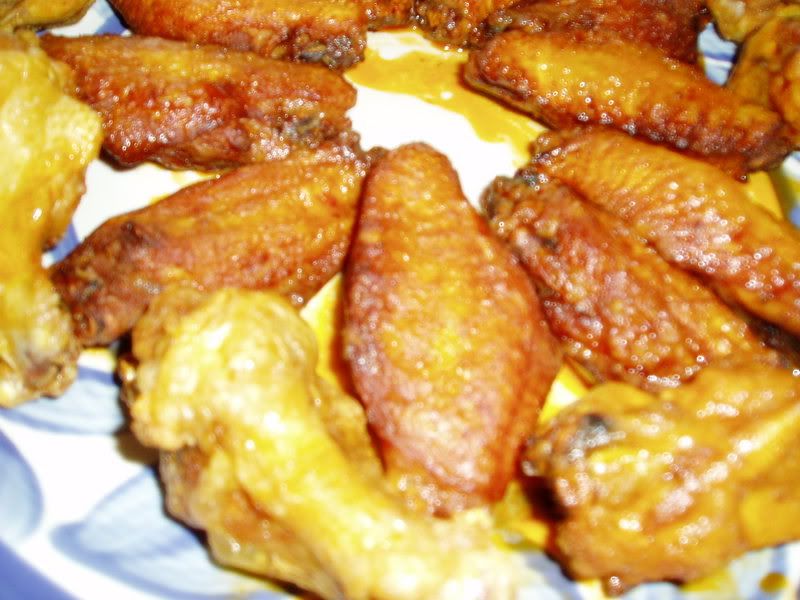 Creamy Roquefort Dip


This is basically a substitute for blue cheese dip. I don't like dipping my hot wings in anything, but if you do this is pretty good.

1/2 cup Roquefort cheese, crumbled

- We used Danish blue cheese


1 (3-ounce) package cream cheese, softened
1/2 cup mayonnaise
1 tablespoon lemon juice
1 tablespoon wine vinegar
1/2 cup sour cream
In a medium size bowl, cream the Roquefort and cream cheese until smooth

Mix in the remaining ingredients and blend well

Chill for 2 hours -

We chilled for about 5 min