Every once in a while I get in health kick and become very conscious of what I'm eating. While on the pursuit of healthfulness I went to eatingwell.com for recipe ideas. I decided to venture away from the types of food I normally eat and I decided to try a recipe called…

Szechuan Braised Meatballs
(The reason I call this entry "Just a little bit different" is because some of the essential items of the recipe were substituted. They were substituted because I couldn't find most of these things in the store.)
1 lbs ground beef
1 6oz can of water chestnuts, drained and chopped
3 tsp of cornstarch
½ tsp 5-spice powder - Emerial's Asian spice
¼ tsp salt
1 cup reduced-sodium beef broth
4 tsp canola oil -Vegetable oil
2 cloves minced garlic
½ tsp crush red pepper flakes
¼ cup Szechuan sauce - Hunan sauce
4 cups shredded napa cabbage - Romain hearts
1 50oz can straw mushrooms - Something that looked like a long skinny straw mushroom
2 scallions
Gently mix beef, water chestnuts, 2 tsp cornstarch, 5-spice, and salt in a medium bowl.

Shape mixture into 12 balls.

In another bowl, whisk broth and remaining cornstarch until smooth.

Heat 2 tsp oil in large nonstick skillet over medium heat.

Add meatballs and cook until brown, about 3 minutes. Transfer to a plate.

Add remaining oil to pan with garlic and crushed red pepper flakes. Stir for about 30 seconds.

Add broth mixture, Szechuan sauce, cabbage, and mushrooms. Cook and stir until cabbage is wilted.

Reduce heat to simmer, return meatballs to the pan, cover and cook. About 8 – 10 minutes.

Sprinkle with scallions.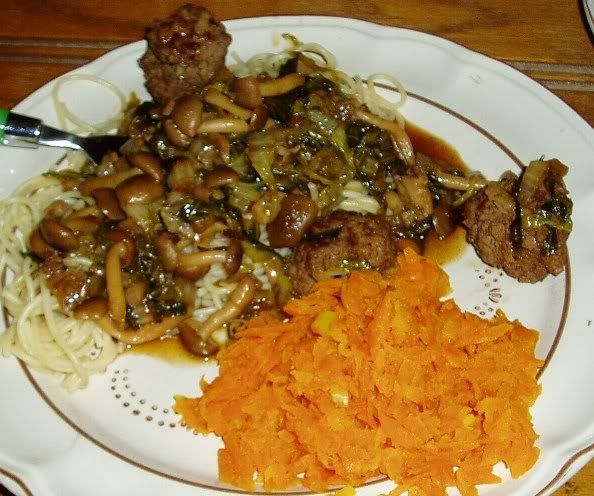 The food next to the meatballs are the ginger carrots, which you can find in an eariler post.


I think the recipe was great and simple, but was really made it for me was the Hunan sauce. There was a perfect mixture, of heat and crunch. It was also wallet-friendly and very filling. With the addition of the romain hearts "salad" I don't feel this needs any side dish either.