pHere's to testing the strength of your heart! While watching the Travel Channel I've seen some crazy food, and man does it look good! Two in particular look interesting and editable. The Okie-dog and the Triple bypass burger. Both will test the healthfulness of your heart, but shouldn't be tried by the faint of heart! Hehe :-)

Okie Dog
You can find this at the "The World Famous Oki Dog" stand in Hollywood baby!
2 hot dogs
cabbage
sauerkraut
onions
pastrami
chili
cheese
mustard
pickles
wrapped in two tortilla shells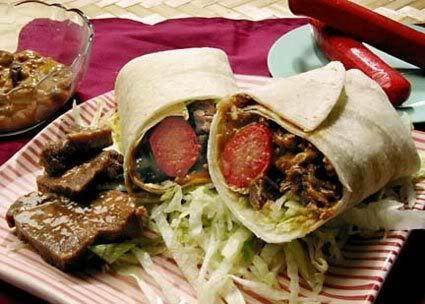 hotdogspot.com

Triple bypass burger
You can find this at The Vortex in the ATL
1/2 lbs burger
3 fried eggs
4 slices of American cheese
5 slices of bacon
2 grilled cheese sandwiches replacing the buns

Before the week is over I hope to try one of these.......and live to tell about it.