One of my favorite Milwaukee restaurants, Roots, held a "Beer lover's small plate dinner" featuring New Glarus beer. It was held in the Cellar and they closed the entire level for a "private event". It was really nice, made the whole event feel more welcoming.
They started us off with an "appetizer" of the New Glarus Raspberry Tart. This beer is much closer to a sparkling wine than a beer - it's actually recommended to be served in a champagne flute. This was served during the cocktail hour where everyone was supposed to mingle, but what really happened (at least by the time we got there) was everyone just sat patiently at their table waiting for the food to come out :-)
This appetizer was followed by some brief introductions and then
the 5 course dinner.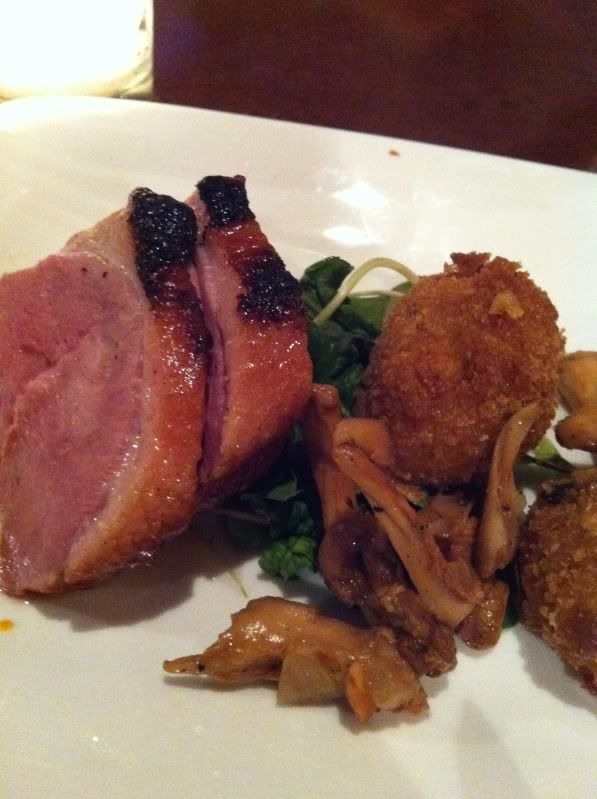 This was my first time having duck. I though it had the texture of a German bologna combined with a pork chop. I also defiantly got the smokey flavor on the duck.
Fried scallions & jalapeno
I had imagined this being a fresh salad of large lump crab seasoned with fresh sea salt and cracked black pepper - nice and light! That's not what came out but it still
was very good. The crab was a breaded and fried dungeness crab.
The garnishes were delicious too but I've never been a fan of Moon Man beer, so..
Buffalo & bandaged cheddar Frankfurter
Pork belly & rutabaga beans
This sounds better than it tastes, it really was just sausage and baked beans. It was good, but nothing that really excited me. However, I did find a new love for the Back 40.
Spicy popcorn balls with beer caramel
By this time, I was getting full and they served a huge portion of chicken. I couldn't finish it. I was really looking forward to the spicy popcorn balls, but they were too salty (and from me, that's saying something), I just didn't want to finish them. Neither did my popcorn-loving husband.
Chocolate coffee stout cake
This was my favorite dish. Yum Yum Yum. I guess normally they would serve the Raspberry Tart for dessert, but I'm glad they didn't. The Coffee Stout worked so well with a dessert. Coffee and dessert - it just make sense.
I hate to say this, but overall I was disappointed. The food defiantly was good, but not up to the standards I'm used to at this restaurant. Also, I didn't feel the beer paired well with the food, nothing really complimented the other. I was expecting the brewer to be there too, but instead the evening was hosted by a local distributor.
Since this dinner was held on a Tuesday night, we finished the evening off at the German Beer Hall for some more beer.
I definitely will return to Roots again, I'm just not sure I'll be back for a dinner like this.